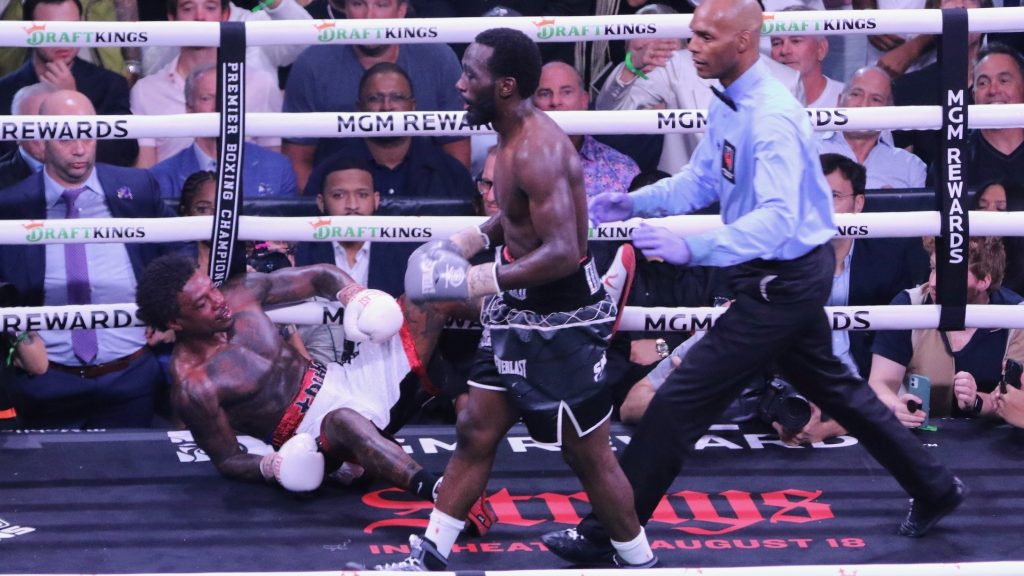 Terence Crawford háromszor is padlóra küldte Errol Spence Jr.-t, majd mikor a kilencedik menetben megsorozta ellenfelét, a mérkőzésvezető közbelépett. A 35 éves Crawford így technikai KO-val nyert a nevadai gála főmeccsén, a már meglévő WBO öve mellé pedig elnyerte a WBA, a WBC és az IBF címeit is, valamint a Ring magazin övét.
The moment @terencecrawford became UNDISPUTED CHAMPION OF THE WORLD 🏆🏆🏆🏆

The referee calls a stop to the fight in the 9th, as Terence Crawford defeats Errol Spence Jr to sit alone at the top of the division. #SpenceCrawford pic.twitter.com/b2yIkj8QAr

— SHOWTIME Boxing (@ShowtimeBoxing) July 30, 2023
A mérkőzésre Eminem kíséretében bevonuló Terence Crawford így jelenleg a váltósúly vitathatatlan bajnoka, ő az első, akinek ez sikerült, mióta négy szervezet bajnoki címeit kell ehhez birtokolni. Abban is első, hogy már a második súlycsoportban mutatta be mindezt, korábban kisváltósúlyban is tarolt.
"Senki sem hitt bennem, amikor még feltörekvő bunyós voltam, de hívővé tettem mindenkit. Különösen úgy jelent sokat ez a győzelem, hogy kitől kaparintottam meg az öveket" – mondta az ESPN-nek Crawford, akinek 40-0-s profi mérlege van.
A 33 éves Spence 28 győzelem után az első vereségét szenvedte el. Azt mondta, nem keres kifogásokat, ellenfele egyszerűen jobb volt. Ugyan reklamált kicsit a leléptetése miatt, de addig minden egyes menetet elveszített. Szeretné érvényesíteni az opcióját a visszavágóra, amire Crawford is nyitott.